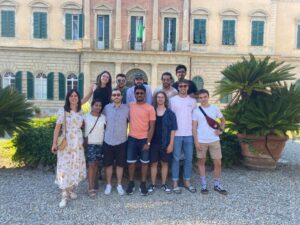 This course was about the applications of the Industrial IoT and its practical applications.
The application process was simple and entirely online. I had to fill in all my details and upload my resume. The result was announced via email within a few days.
For the accommodation search, the university provided some options. But I was looking out for cheaper accommodation with the provision of a kitchen too. I was along with 2 other friends from TH Rosenheim who were doing the same summer course as me in the shared room. The arrival session was smooth and welcoming. We were given Canteen Cards and Bags. Learning environment was a Classroom equipped with projectors and speakers.
There were also many hardware demos provided by the respective professors.The language was comprehendible. Although some lectures were challenging as it needed the pre-requisite knowledge. Otherwise, the topics covered (RFID, Connected Vehicles, etc.) were also super interesting. Overall, an interesting and comprehensive course for the students who have a focus on Embedded Systems and IoT. I would recommend this course to the future students.
Visit the Leaning tower of Pisa, Arno River walk during the evenings, enjoy delicious Italian food and wine. Travel to Cinque Terre!. We were taken to the Computer Museum in Pisa where we got a guided tour of the oldest computer in Italy.
Overall, the summer school was comprehensive and highly informative. The learning outcomes from the summer course have helped me understand the possible topics I can consider for a Master Thesis. Getting to interact with the different students, the session on Connected Vehicles by Prof. Saponara and the great food shall be the top-of-mind recalls from this course.